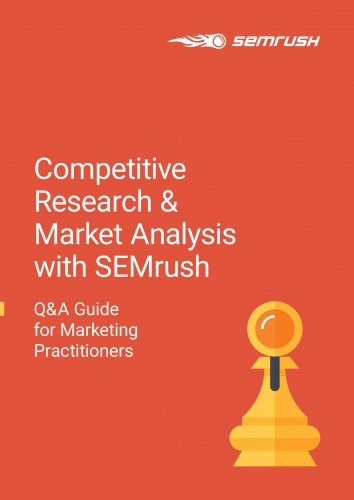 The modern marketplace is ever-evolving. In order to stay at the very top, marketers need to be on red alert to avoid being left behind by the competition. Accurate and timely data can equip marketers with the required competitive intelligence to react quickly to market changes. Of course, gathering that data is easier said than done.
This e-book gives insight into how SEMrush can help you analyze your competitors' marketing strategies to gain a clear understanding of the demand within a market. The e-book also provides information on how to uncover gaps and make the best use of opportunities to succeed.
Discover detailed guidance on the following categories within competitive research and market analysis:
Media buying optimization
Enhancing business proposals
Searching for gaps and insights
Researching new markets and niches
Analyzing competitors' marketing strategies
Establishing co-marketing and affiliate partnerships
Data is an integral part of supporting the marketing decisions you make. SEMrush tools provide you with an in-depth market analysis that can help to enhance your strategies, partnerships, and proposals.
Estimated Reading Time: 24 minutes
Target Audience: This in-depth study is suitable for mid-level digital marketers to marketing managers. Both in-house professionals and digital agencies can use the guide to analyze their competition and further establish their campaigns.
Nguồn: https://www.semrush.com/ebooks/competitive-research-pdf/