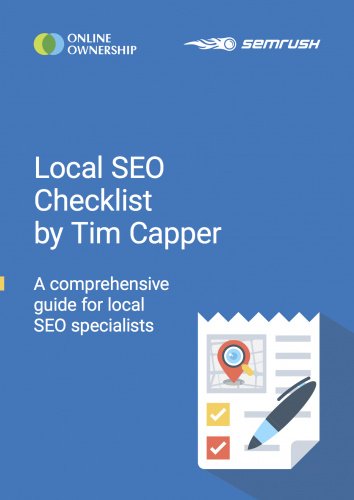 Are you a local SEO specialist looking to dominate the local pack and earn the majority share of traffic?
SEMrush has teamed up with industry expert Tim Capper, founder of Online Ownership, to create an in-depth guide full of insight into getting ahead in local SEO.
With the help of Tim, this ultimate local SEO checklist e-book highlights everything you need to know about Local Pack, the Google SERP feature that affords local businesses unique organic visibility.
Within this e-book you will learn:
What are Local Packs?
Site optimization for local customers
Tracking results in your exact location
What are local citations and why they are important?
Download our Local SEO Checklist today and let us walk you through exactly how to get into the Local Pack and occupy those top positions…
Estimated Reading Time: 24 minutes
Target Audience: This e-book is an ideal guide for SEO specialists and online marketers looking to get ahead in local SEO. You'll find beginner's guides to Local Packs as well as more intermediate and advanced tactics to help you to boost local search traffic and rankings.
Nguồn: https://www.semrush.com/ebooks/get-into-the-local-pack/