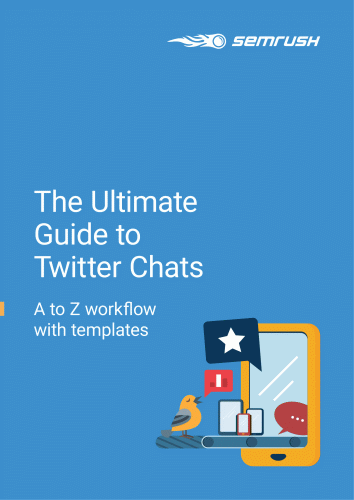 Twitter is one of the most successful mediums for use in connecting with consumers, building reach, increasing engagement, and growing brand reputation. One of the best ways to achieve this is through Twitter Chats.
At SEMrush, we've run our popular #semrushchat since 2014. We've built a loyal community – with some chats having an estimated reach of more than one million.
This Ultimate Guide to Twitter Chat E-book offers a step-by-step guide on how to launch a successful Twitter Chat with guidance in the following areas:
Building a follower base
Finding the right hashtag
Choosing the optimum time slot
Inviting guests
Creating promotional materials
Using influencers and other promotional tactics
You can get this Twitter Chat download for free below, simply fill out the form and begin to increase the brand awareness of your business today! 
Estimated Reading Time: 15 minutes
Target Audience: This is the ideal Twitter e-book for social media brands and small business owners looking to develop social media engagement strategies. 

Nguồn: https://www.semrush.com/ebooks/ultimate-guide-twitter-chats-semrush/