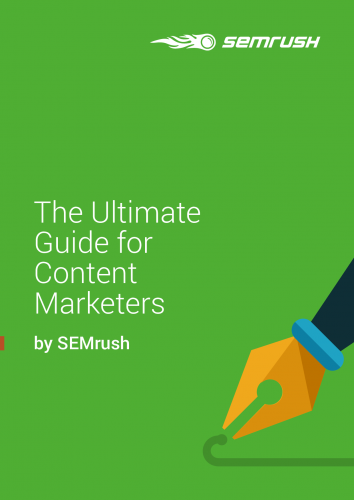 In today's highly competitive world of digital marketing, it's more important than ever to produce interesting and valuable content with which people actually wish to engage. If you are aiming to create successful content marketing campaigns, begin by leveraging powerful tools that will help you to take your content to the next level.
Here at SEMrush, we have compiled the ultimate Content Marketing E-book to guide you through each step of quality content creation. You will learn how to perform a comprehensive content analysis, as well as learning how to produce interesting assets and copy. In addition to this, you will also discover how you can make your content more visible to search engines with the help of our SEMrush tools.
To be a good content marketer in 2019, a whole series of skills is required across SEO, PR, and analytics. This free guide to content marketing provides in-depth insight into improving every aspect of your strategy, from content ideation through to distribution and analysis.
You will learn how to perform a comprehensive content analysis, produce SEO friendly and interesting copy, as well as uncovering the best SEMrush tools to take your work to the next level.
Within this e-book you will find help with:
Auditing and optimizing existing content
Content research and ideation processes
Content distribution: How to earn backlinks and engagement
Tracking the progress of your content from traffic to backlinks
Our Ultimate Guide for Content Marketers E-book is free to download and is the perfect place to start if you're looking to increase content quality, visibility, and ranking.
Estimated Reading Time: 27 minutes
Target Audience: This guide is perfect for mid-level digital marketers who use content as a key part of their strategy. Additionally, this is a useful resource for content writers who are looking to improve their optimization skills alongside structure and distribution methods.
Nguồn: https://www.semrush.com/ebooks/ultimate-guide-content-marketers-semrush/