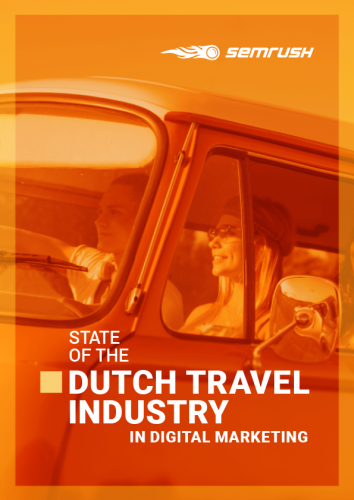 SEMrush helps companies in the Dutch travel space understand which directions digital marketing is heading today and how they can make the most of the opportunities that emanate from these advancements.
In more precise terms, what we are trying to do is harness the power of data and analytics to assess…
How travel companies are generating traffic online
What factors are creating opportunities (or impacting their organic growth) on digital platforms
Where the current digital advertising trends are leading
How the travel websites catering to the Dutch audience are performing in terms of SEO and user experience metrics.
In this free to download ebook you'll find guidance in the following fields:
Traffic Sources: Desktop v mobile, social media traffic, search traffic trends
Organic Searches: SERP features, branded v non-branded organic search traffic, popular keywords
Advertising Trends: CPC maps, trigger words, display ads by devices, paid search spending
Site Audits: key travel site metrics
Intertwined within our guide you'll also find success stories from some of the biggest travel brands on the planet.
Estimated Reading Time: 27 minutes
Target Audience: Marketers working within the Dutch travel sector. This is aimed to aid companies in the Dutch travel space and is useful for both agencies and travel businesses with their own in-house SEO and marketing teams.