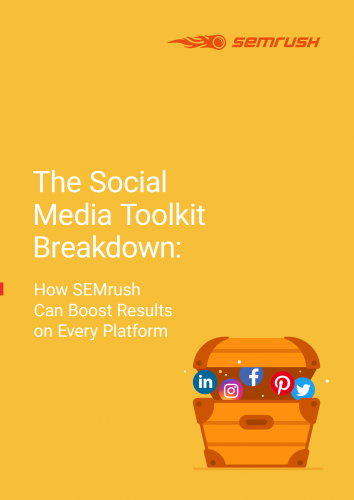 Social media marketing has the potential to produce some exceptional results, and using the right tools will help you achieve them.
SEMrush's Social Media Toolkit will help you with all aspects of social media marketing, from scheduling posts to analysing posts across all platforms. This social media ebook will help you create drafts, set up queues, create editorial calendars and personalize insights on Facebook, Twitter, Instagram and LinkedIn.
Other areas this guide and the SEMrush Social Media Toolkit can aid with include:
Competitor analysis and benchmarking
Editing images before posting
Automating link sharing
Mentioners and mentions reporting
Download our free guide today and discover how SEMrush's Social Media Toolkit can help transform your social strategy.
Estimated Reading Time: 22 minutes
Target Audience: This social media ebook is ideal for professionals who are looking to streamline their social strategy. This is also a good guide for business owners who are looking to build their social media presence across multiple platforms.
Nguồn: https://www.semrush.com/ebooks/semrush-for-social-media/